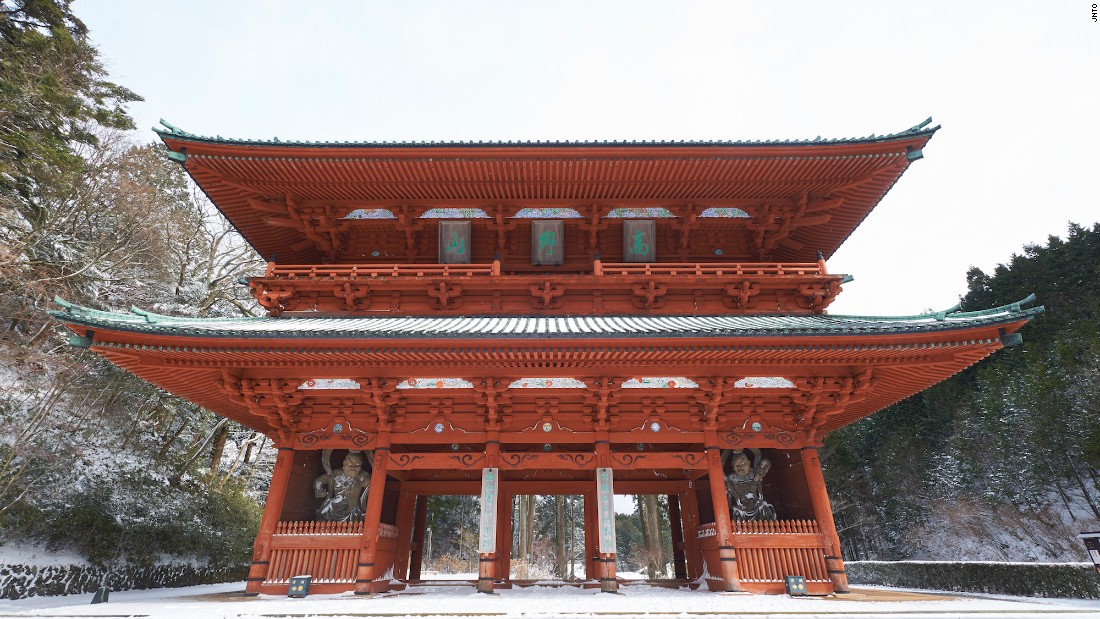 Koyasan, Japan (CNN)It's difficult to imagine how the female pilgrims trekking the perimeter of Koyasan, one of Japan's most holy sites, centuries ago must have felt while making their journey.
On the one hand, this "women pilgrims route" in Wakayama prefecture is a seven-kilometer stretch of incredible natural beauty.
Thick, silent forests, moss-covered rocks and trickling streams share space with historic shrines, crumbling deities and red torii gates.
Occasionally, the densely forested trail breaks free from its covered confines to reveal open skies and the dramatic vistas of Japan's mountainous Kii Peninsula.
On the other hand, the trail symbolizes their forbidden status — a path forged to allow female pilgrims a chance to make offerings and feel the spiritual energy of the mountaintop temple complex without actually entering due to Koyasan's ban on female visitors.
Surely it must have stung just a little to be so close to this holy site, made worse by the fleeting glimpses of Koyasan's religious architecture that appear to those walking the trail, yet still unable to enter.
Unlike the trail's beauty, times have changed
Fortunately, women are no longer personae non gratae there.
Founded in 805 by a man named Kobo Daishi, one of Japan's most revered religious figures, Koyasan is the headquarters of Shingon Buddhism, a Chinese-influenced esoteric sect.
In 1872, the incoming Meiji government declared that Buddhist monks should be free to take wives and have children. Around this time the ban on female visitors ended.
But that doesn't mean it's not worth retracing the steps of the once forbidden pilgrims — regardless of whether you're a man or woman.
In addition to morning prayers, guest activities include "sutra copying" (transcription of 262 words of Hanya Shinkyo scripture) and meditation sessions.
All temple meals are shojin ryori (vegan Buddhist cuisine) though for those craving a bit of meat or sushi there are more diverse offerings at Koyasan's regular restaurants.
We had a chance to check out four different temples that are equipped to service foreign tourists, all of which offer comfortable, clean rooms, beautiful gardens and courteous staff.
Getting there
The Nankai Electric Railway makes four round-trips a day by Limited Express and runs Express trains at about 30-minute intervals between Osaka Namba Station and Koyasan Station.
The trip takes 100 minutes by Limited Express, and about two hours by Express.
From Koyasan Station, visitors can hop on a 10-minute bus to Koya town.
Read more: http://www.cnn.com/2016/12/29/travel/japan-women-pilgrimage-koyasan/index.html